Accelerating Graph Analytics through Data-Parallel Primitives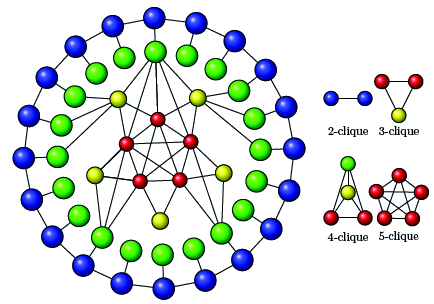 Scientific Achievement
A 10-fold performance over a state-of-the-art approach results from a novel algorithmic design of maximal clique enumeration (MCE), a key graph analytics method. The novelty is the use of data-parallel primitives (DPP), a non-traditional programming model [1].
Significance and Impact
Approaches such as this are a promising path forward for both portability and performance on rapidly evolving computer architectures, into the exascale regime and beyond into Post-Moore's Law. This method has widespread science and security applications, from computational chemistry and bioinformatics, to cybersecurity.
Research Results
Challenging reformulation of a breadth-first parallel MCE algorithm to use DPPs: map, reduce, scan, compact, unique, sort, ..
Platform-portable, shared-memory parallel implementation: runs on CPUs and GPUs
Performance comparison with state-of-the-art implementations shows significant performance advantages
This algorithm is being used as part of a state-of-the-art image segmentation method, which is targeting analysis of image-based data from beamline science
Bibliography